Our ever-growing list of features
Everything you need to make great classes in one easy-to-use solution.
Balanced Classes
Classes are created instantly balanced by:
Gender

Class size

Behavior

Academics

Separations
and much more!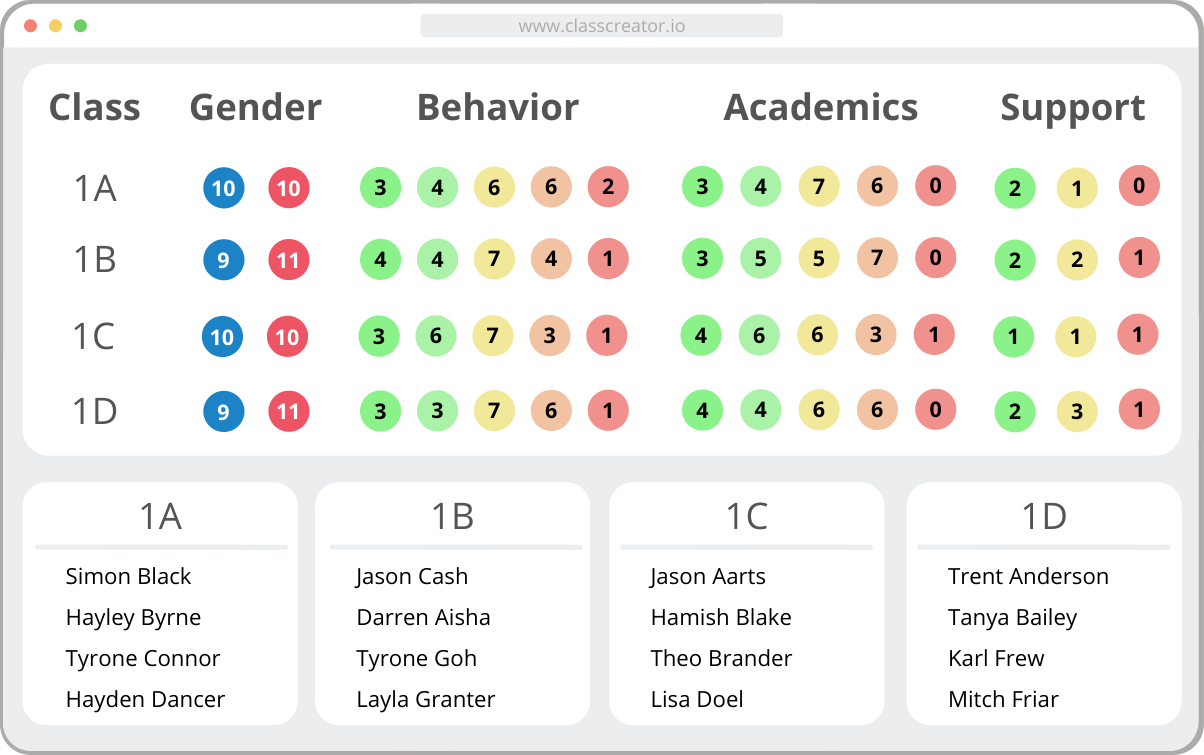 Online Surveys
Gather all your school's data in one place via online surveys that teachers love.
Fast, efficient, moderated, easily accessible and centrally stored.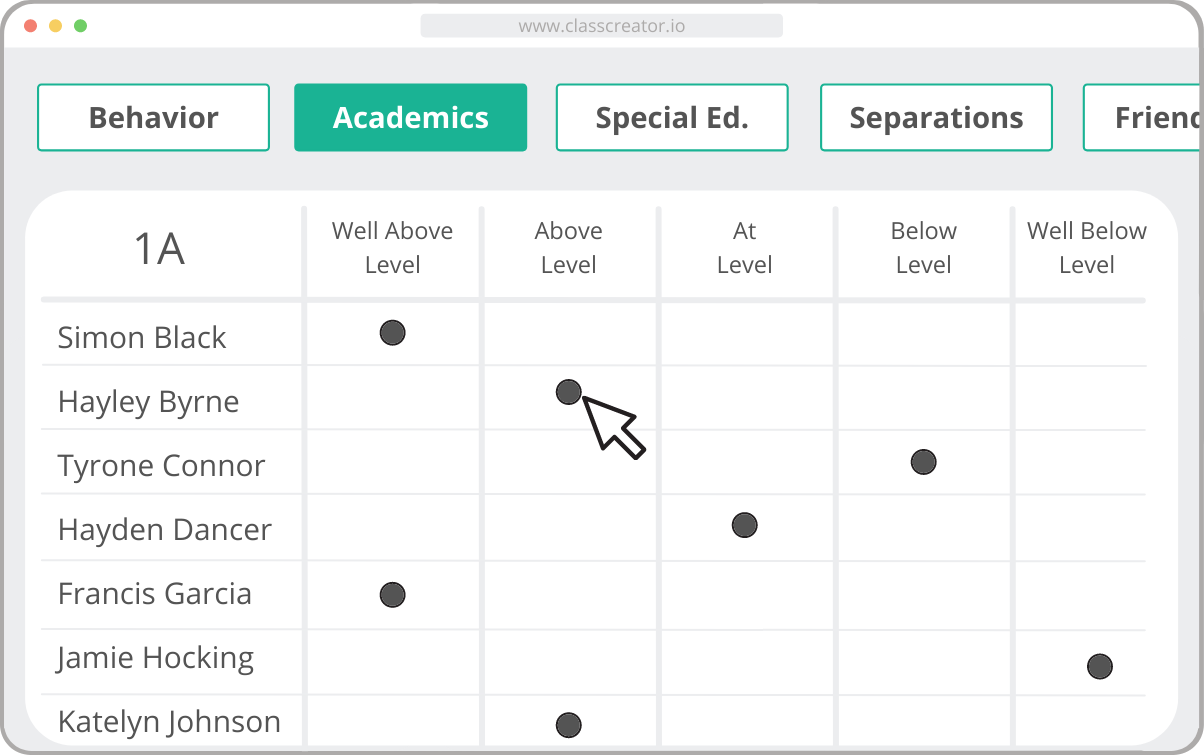 Customize Surveys
Collect the data you need by editing the survey fields, headers & rubric.
#everyschoolisdifferent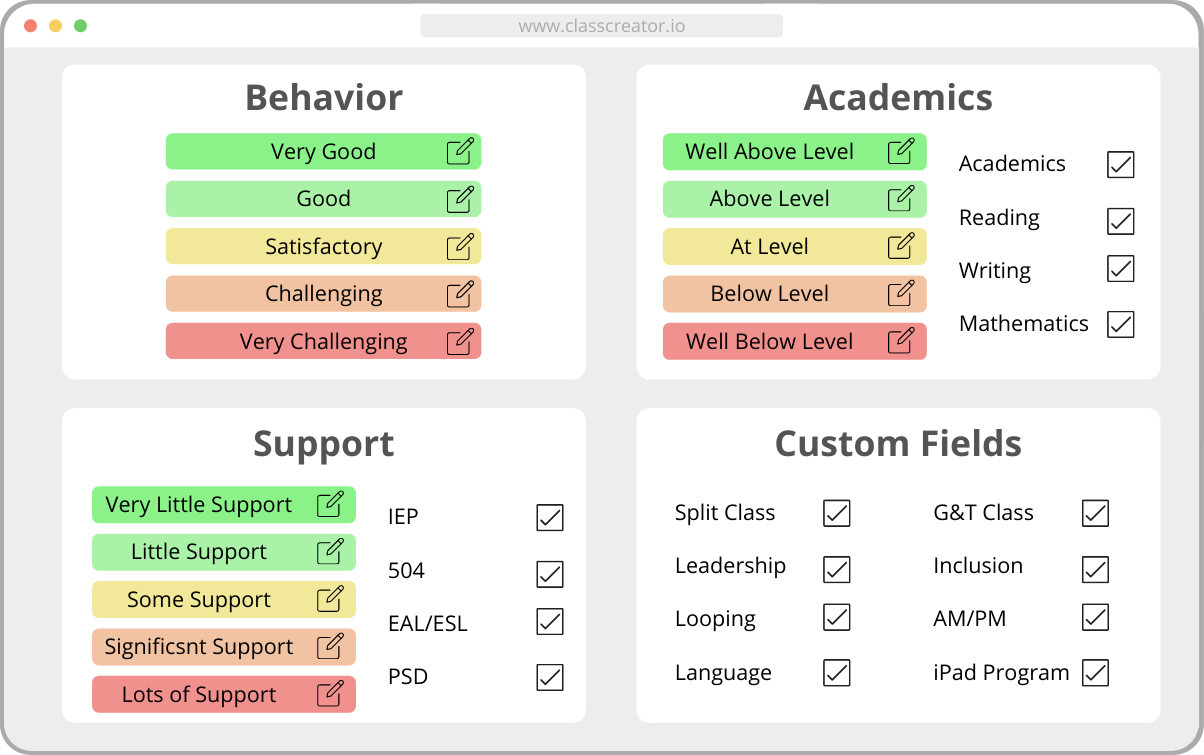 Placement Alerts
Alerts appear when requirements such as separations & pairings are not met.
No more placement mistakes!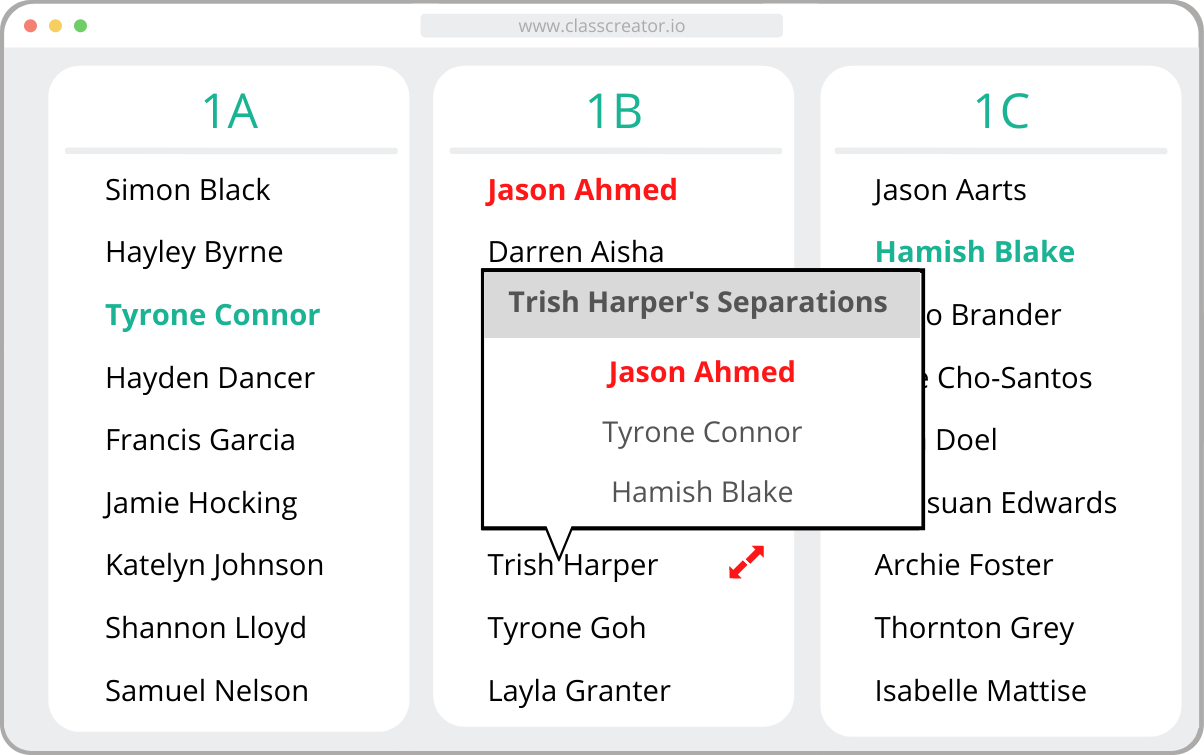 Separations & Pairings
Separate students so they will not be placed in the same class.
Pair students to form clusters and keep them together.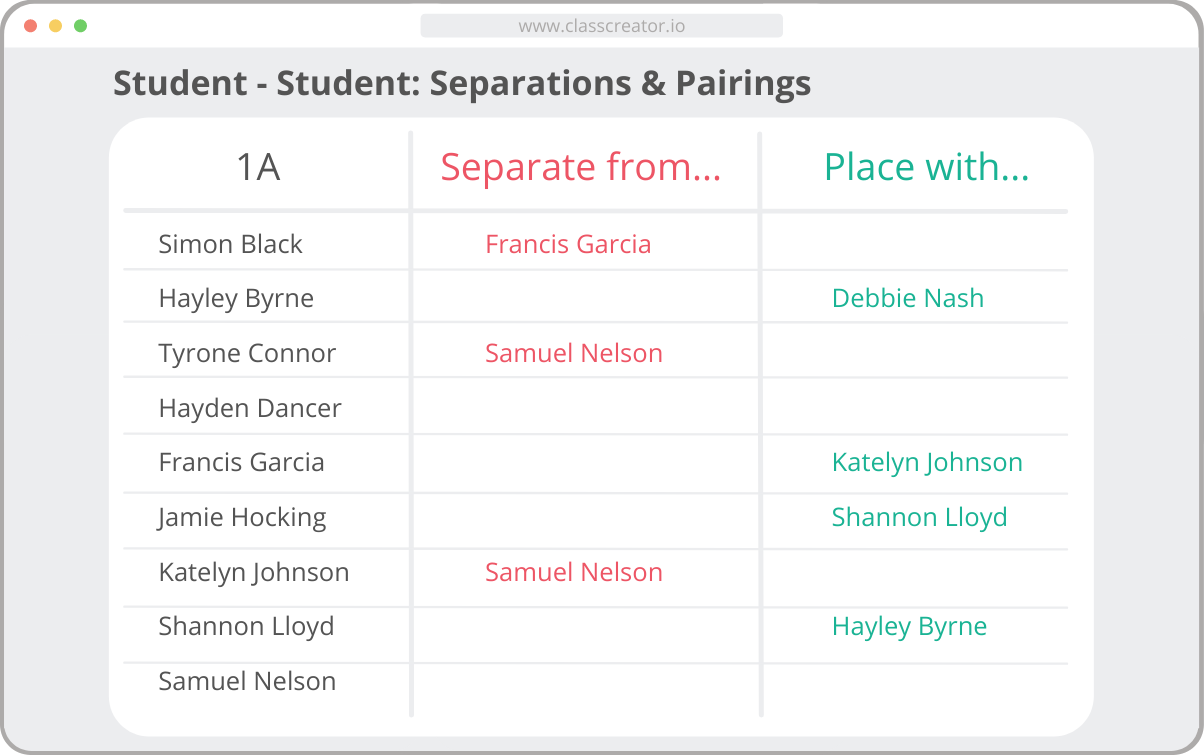 Handover Notes
Help your teachers get off to a flying start by ensuring they have all the information they need about their new class.
Academics, Behavior, Friendships, Notes & Strategies and More.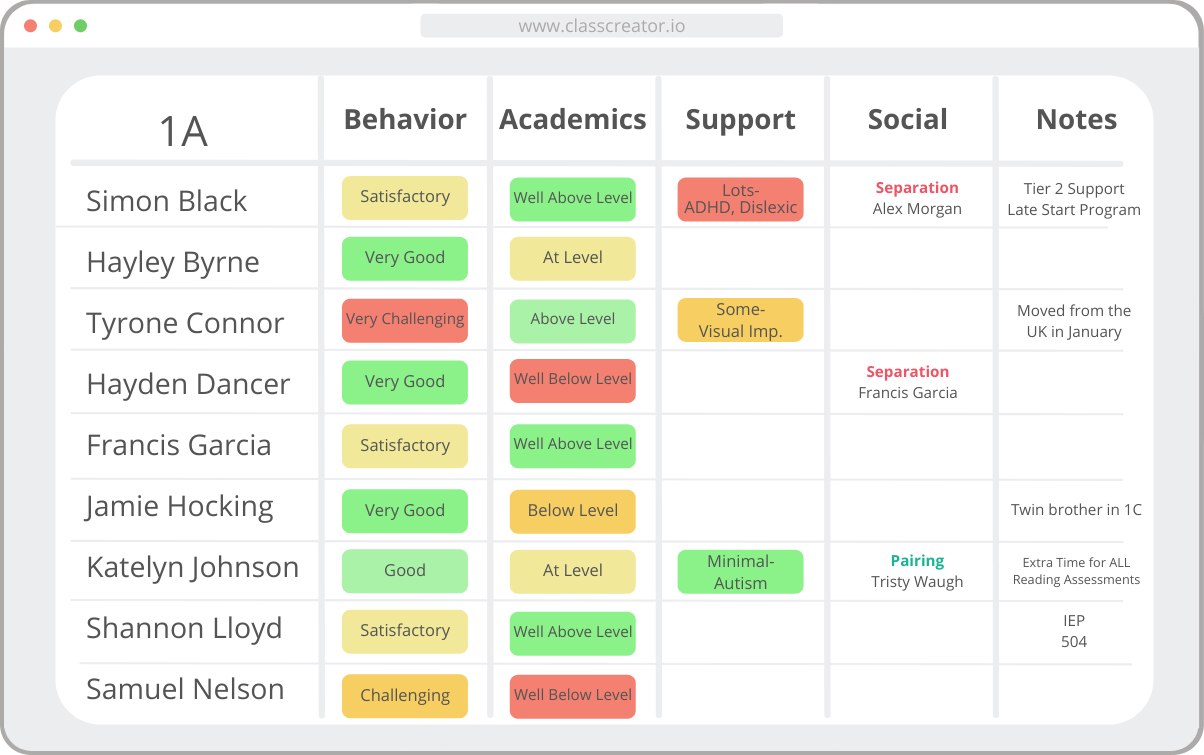 History Saved
Access your students survey data, separations & notes. No more searching through files; it's all stored in Class Creator.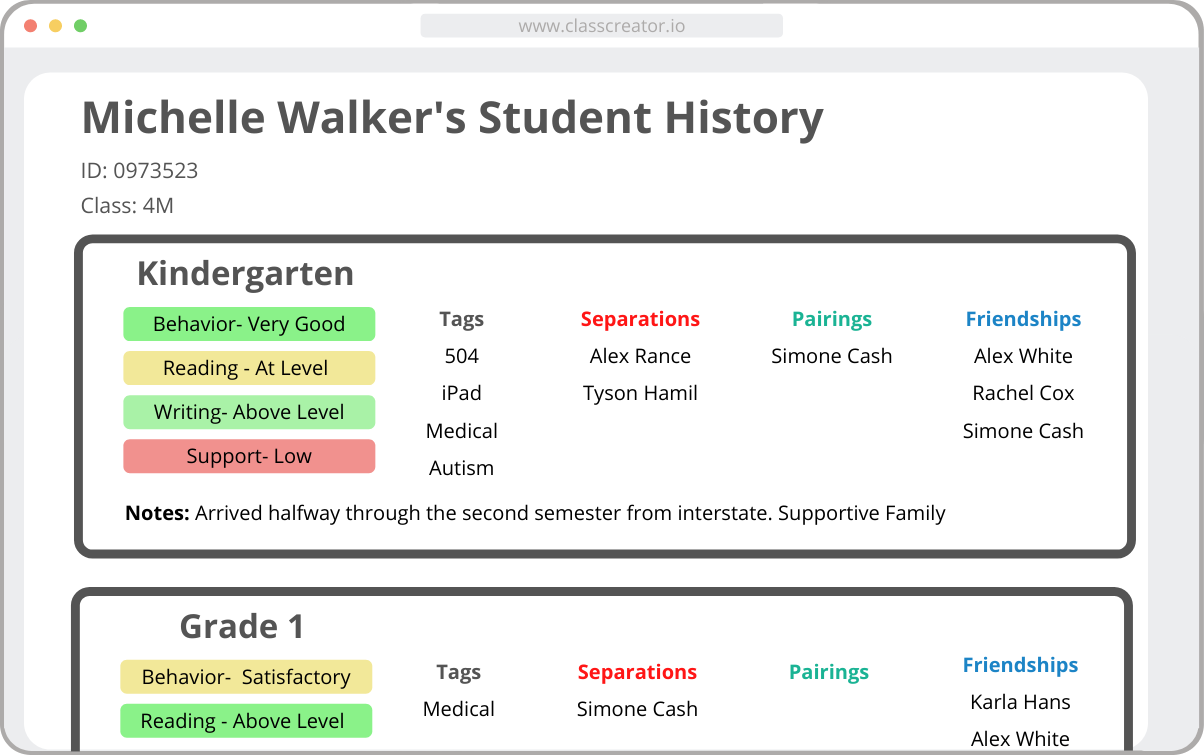 Demographics in Real-Time
Edit your classes & see the demographics overview change in real-time. Say goodbye to counting student cards & imbalanced classes.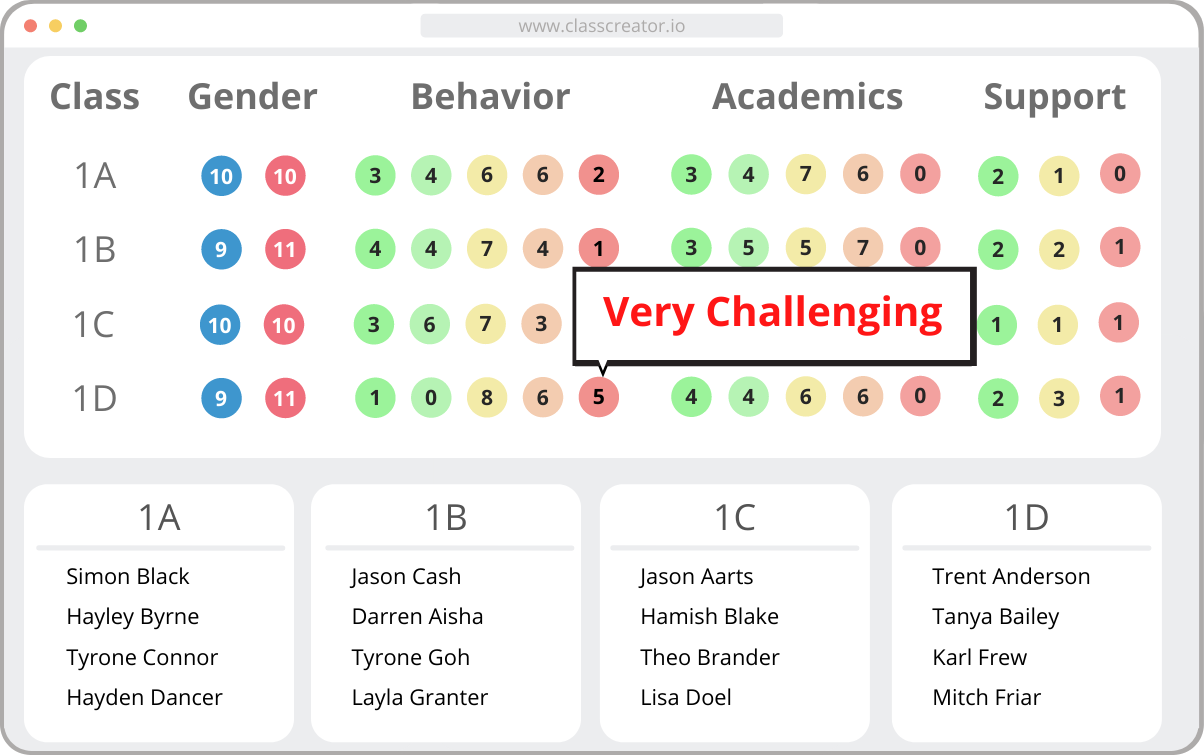 Easy Editing
Class Creator's drag & drop editor allows you to move students between classes whilst receiving real-time feedback.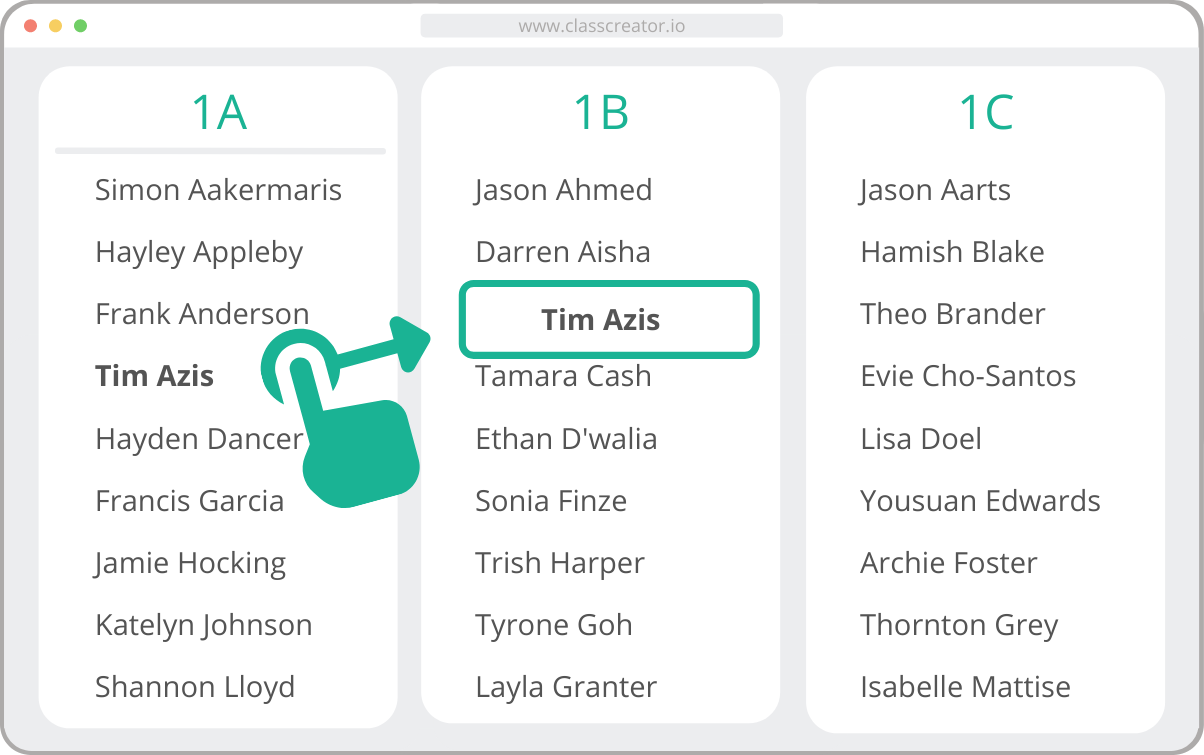 District Access
District leaders can log in to any school and transfer students between schools.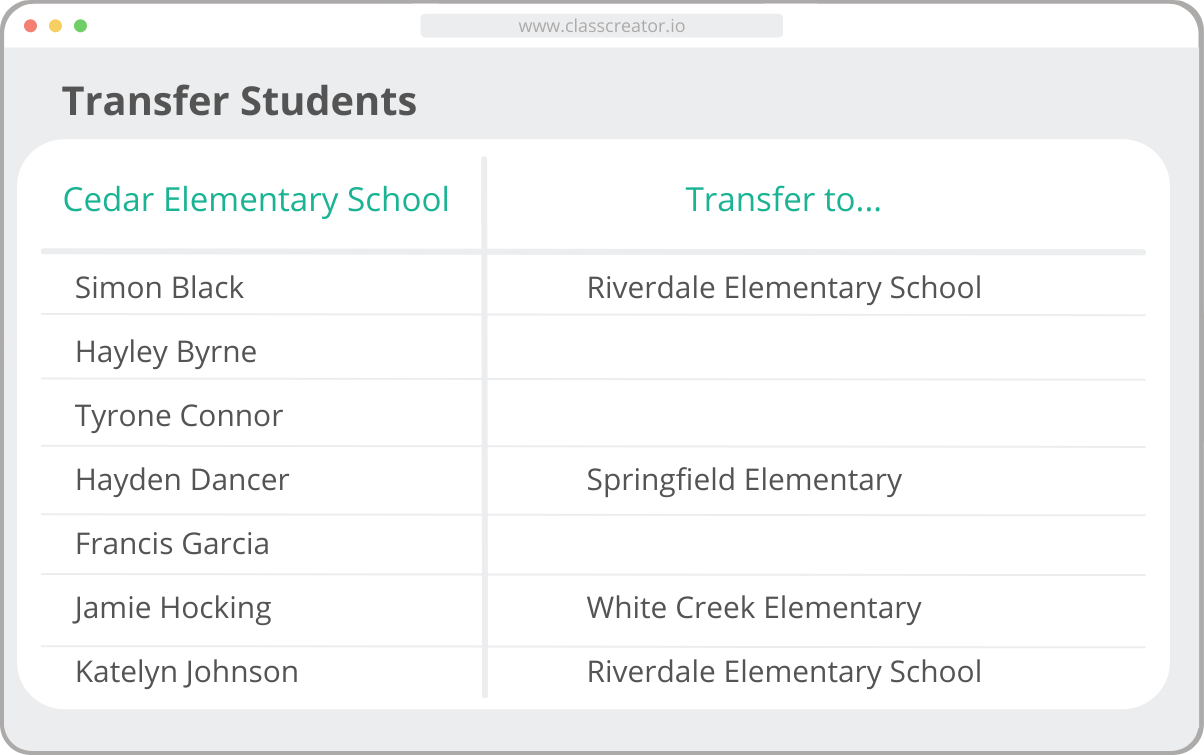 EAL/ESL/ELL
Record student English language support requirements and factor them in to student placements.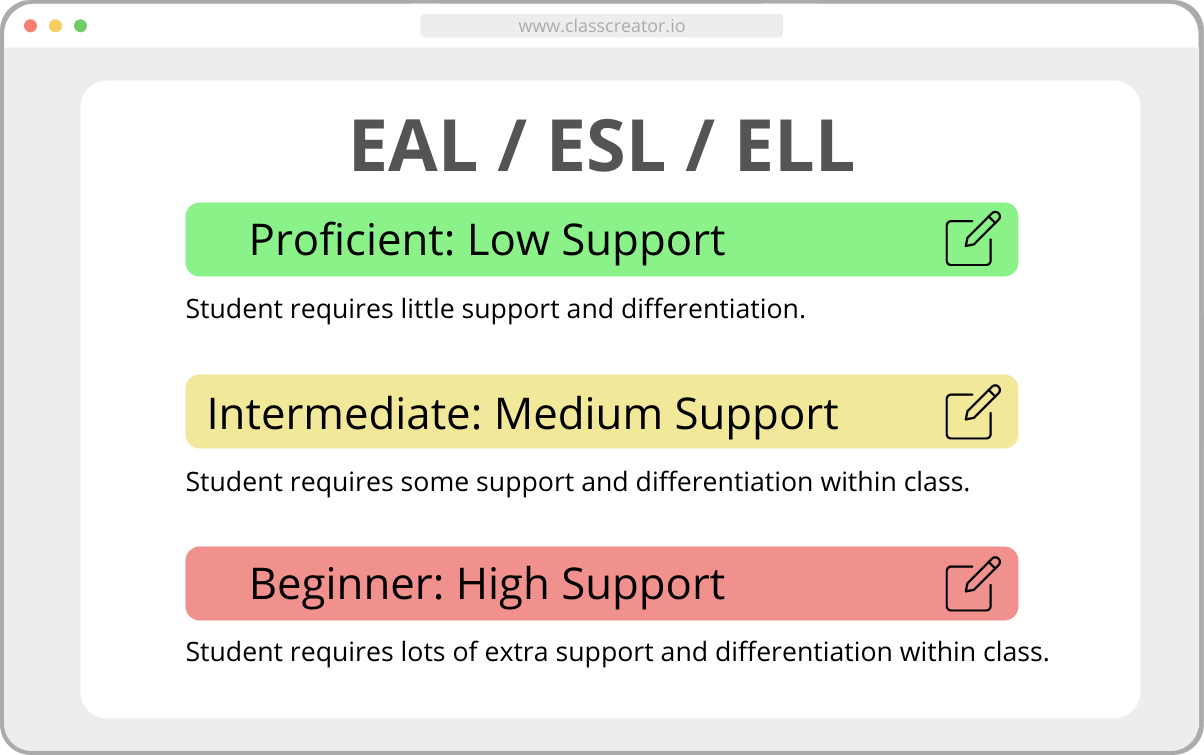 Easy Setup
Class Creator is designed to be easy to set up and to play nicely with others. No matter what SIS/SMS you use, you can easily get your data into Class Creator by using our import template.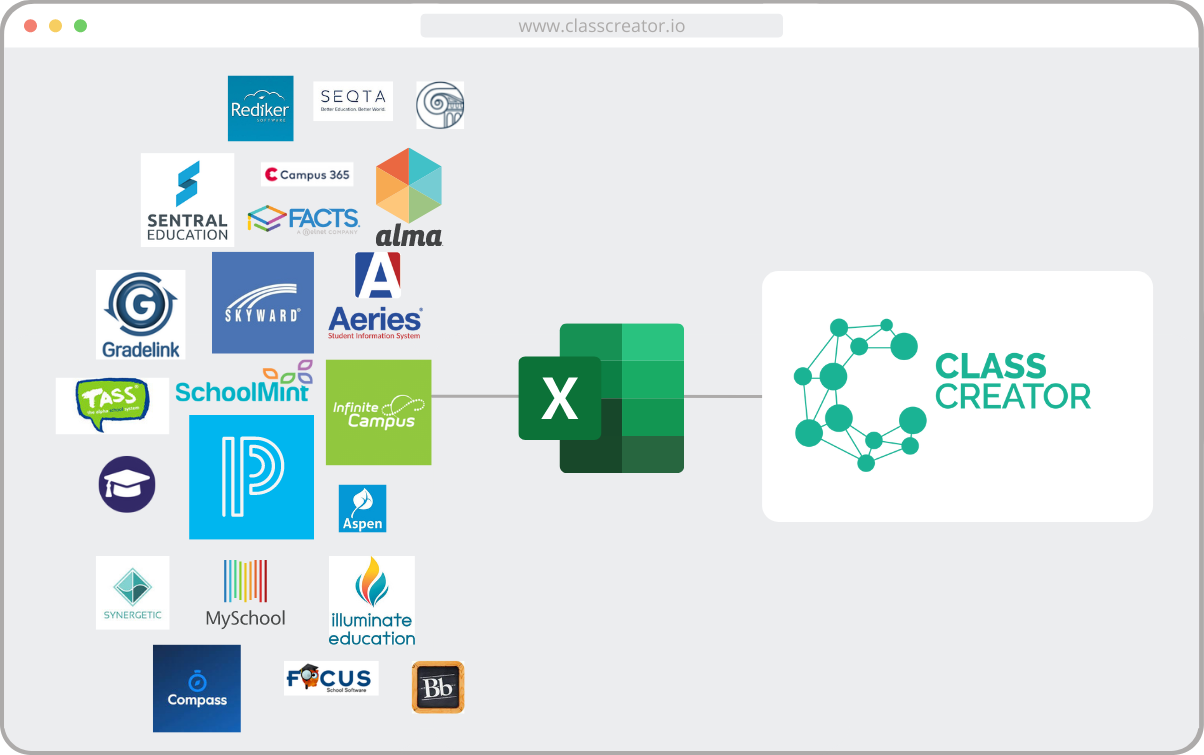 Special Education
Special Education data are all recorded in our surveys and factor greatly into class creation.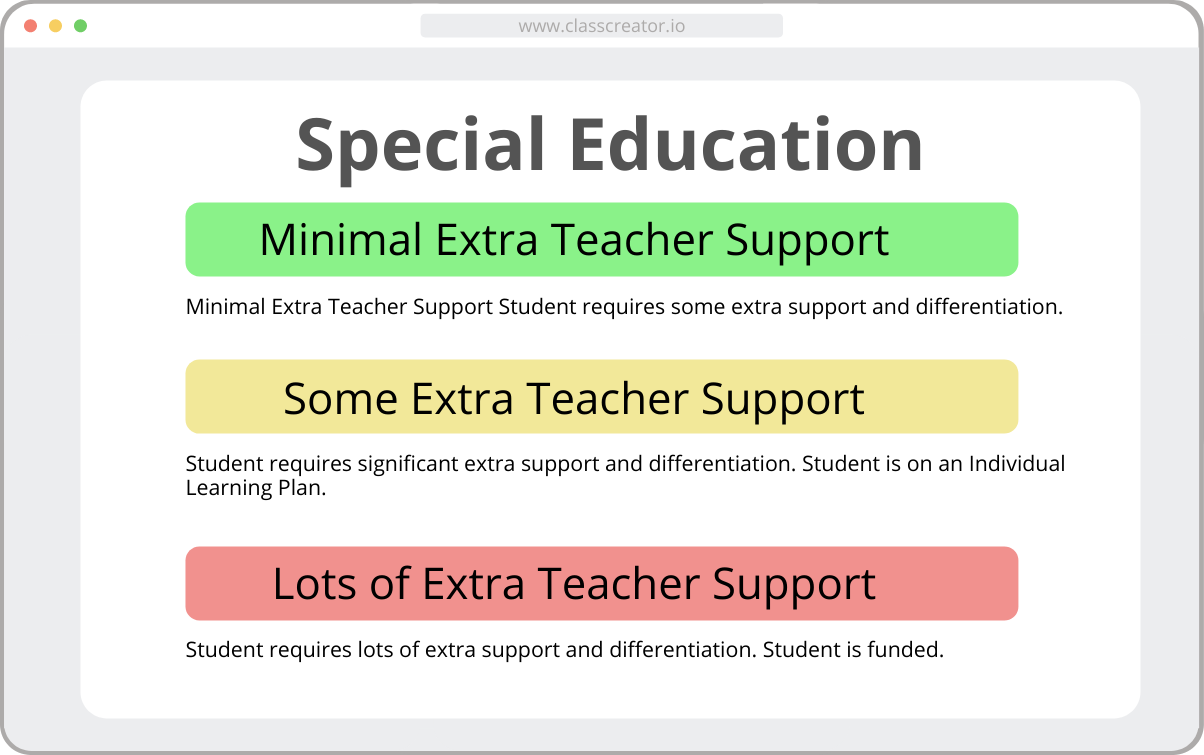 Student-Teacher Pairing/Separation
Ensure students with specific needs are placed with the correct teacher.
- Tim B must be in Mrs. Walker's class.
- Corinne K. must be in Mr. Turner's class.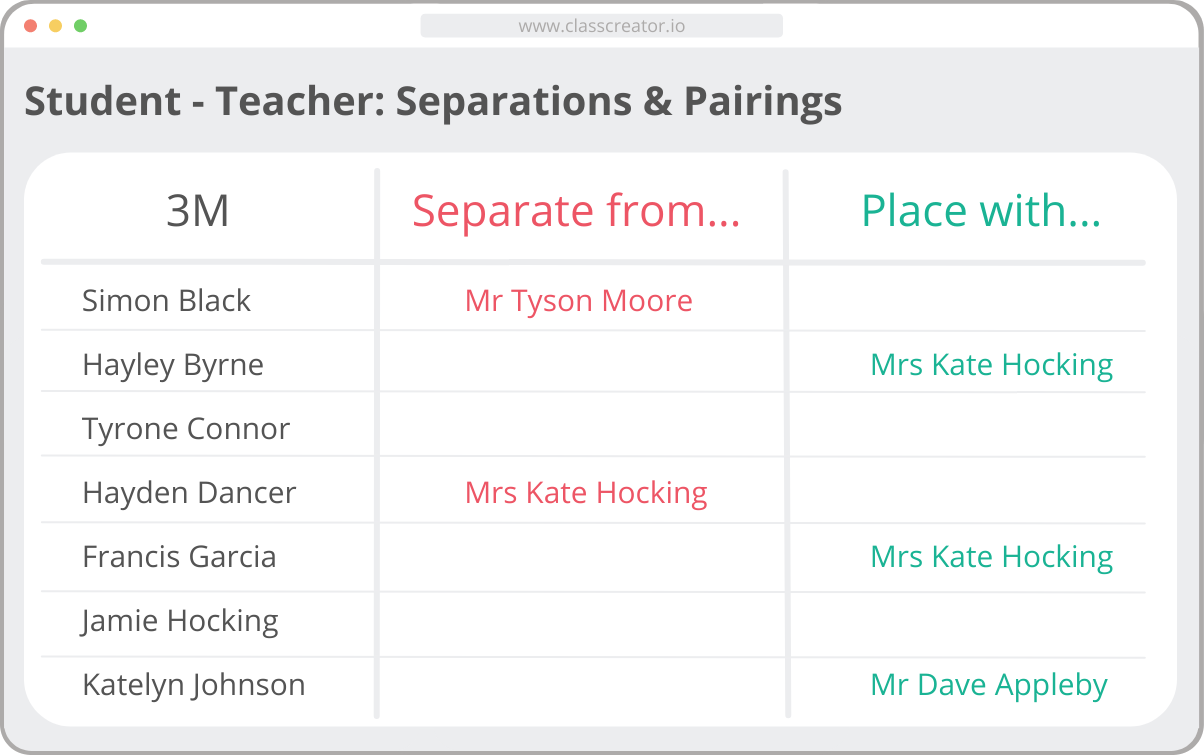 Teacher & Admin Notes
Teachers & Admins can add notes relevant to student placements. Notes are saved year-to-year.
(Admin Notes are only visible to school admins not teachers.)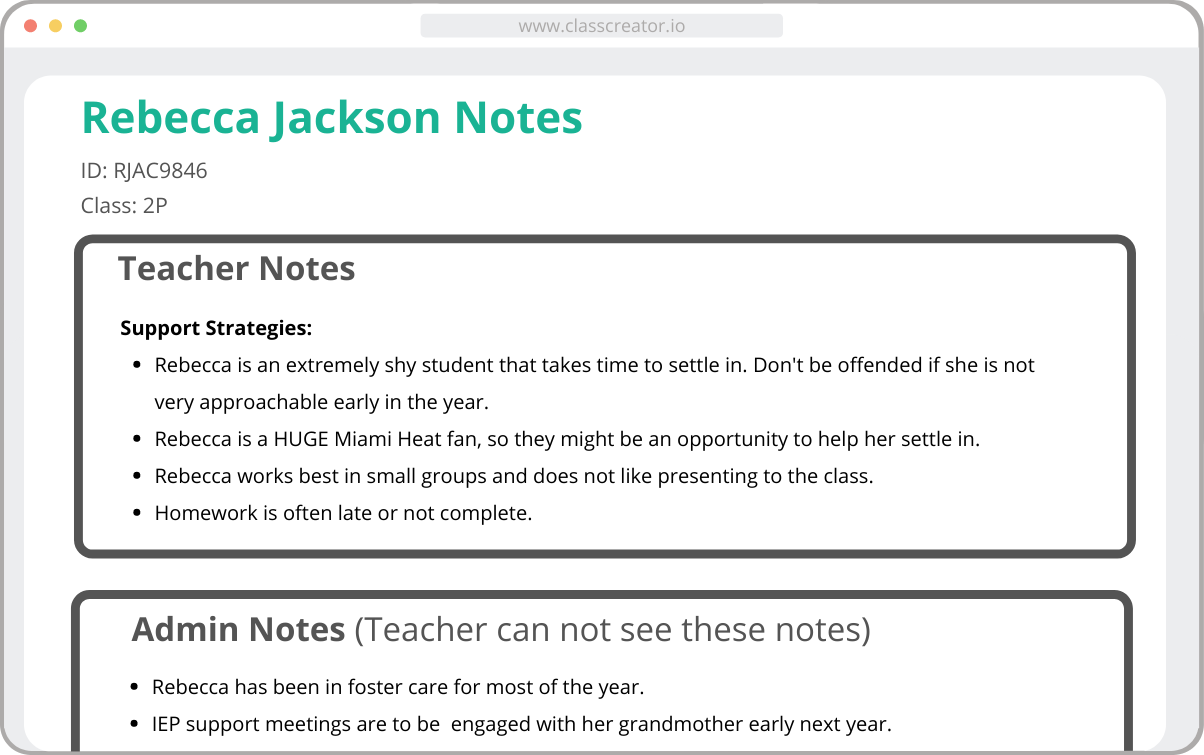 Reports
Analyze your student survey data in relations to class, gender, behavior, academics, separations, pairings and more.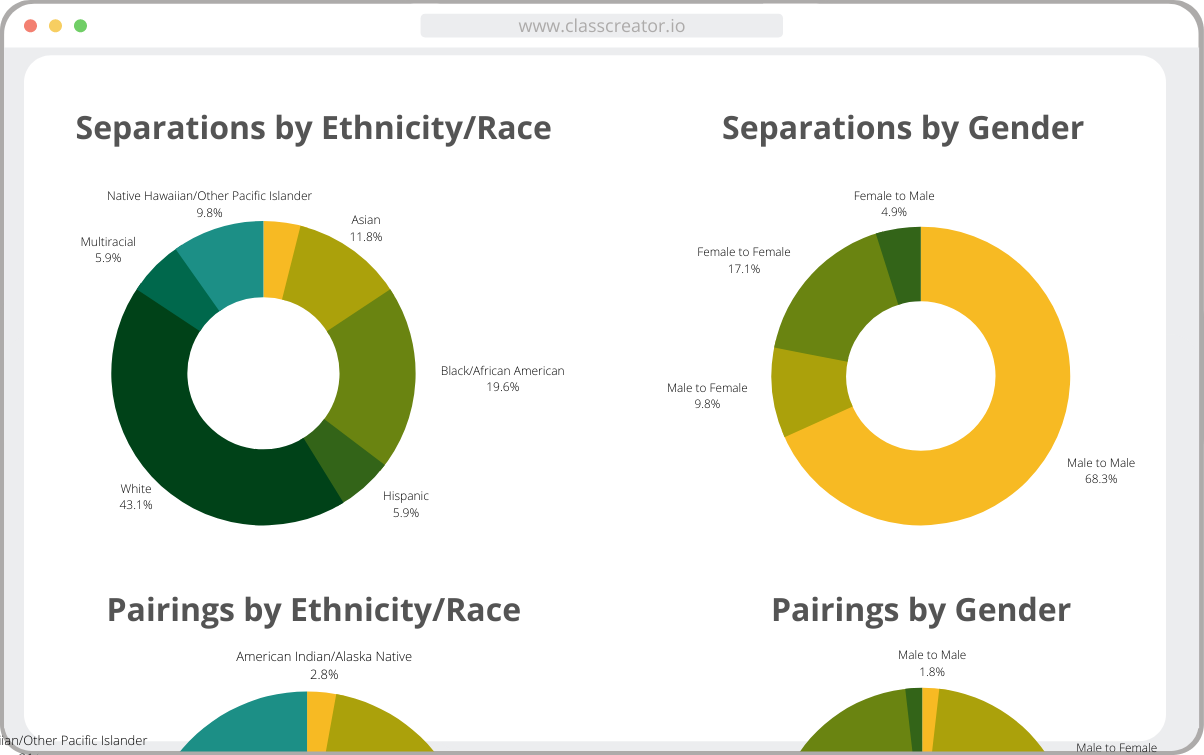 "I used Class Creator last school year for the first time and found it to be amazing! The software is extremely user-friendly and I was able to get support whenever I needed it - either through the videos or through email. I have told my friends about it and this year 5 more schools in my district are using it. It has been the ultimate time saver!"
"This is the best solution that we've experienced and can not say enough about the ease of use for both staff and administration. The countless hours is saved scheduling 475 students is immeasurable. Certainly worth the investment. We'll use it this summer as well to schedule our incoming Kindergarten students (100 +). Best class placement solution out there! Corinne has been outstanding in her support and response to answering any of our questions! Thanks a million."
"Class Creator has made my life so much easier as the elementary assistant Principal. I work with teachers to roll out the survey specifications, they completed the survey, and I click the create classes button! After the classes are made, I sit with the teams to make sure the classes are evenly distributed with academic and behavioral needs. I love it!"
"Class Creator meant all the information was in one place - no cross-checking between different lists and folders. Once the grades were created it was so easy to move students from one class to another and straight away see the implications of this move."
Student Tags
Create unique tags for special needs and other areas. Perfect for easy identification when editing classes.
IEP, 504, GT, Ethnicity, Math Accel, Dyslexia or anything else relevant to your student placement process.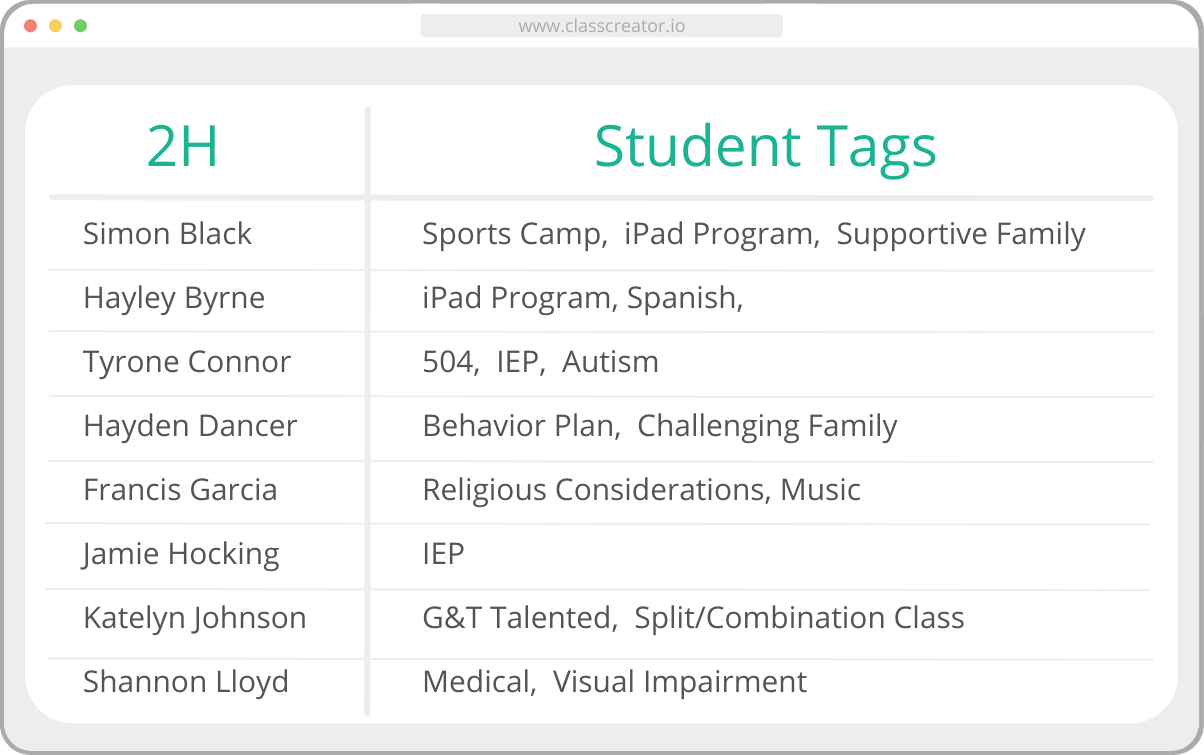 In-App "How-To" Videos
Help is at your fingertips. Every screen has a brief video to walk you through how it works.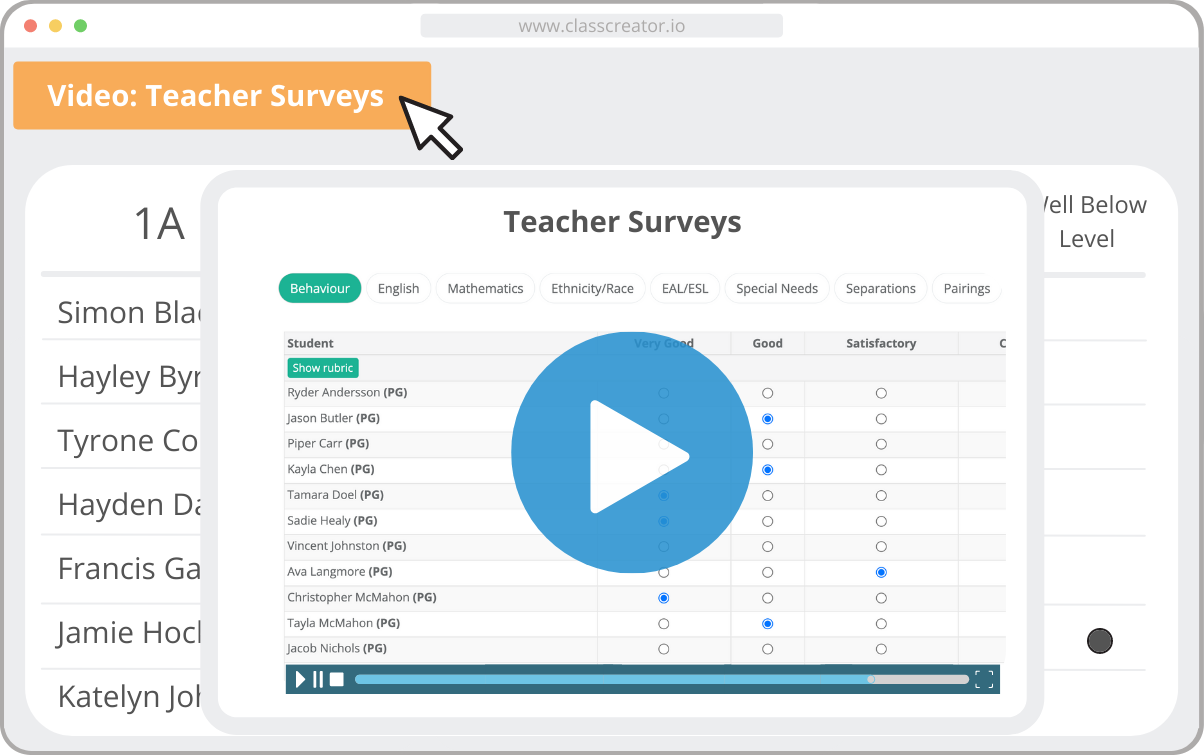 Priority Sorting
Select different sorting priority algorithms to ensure classes meet the needs of your school.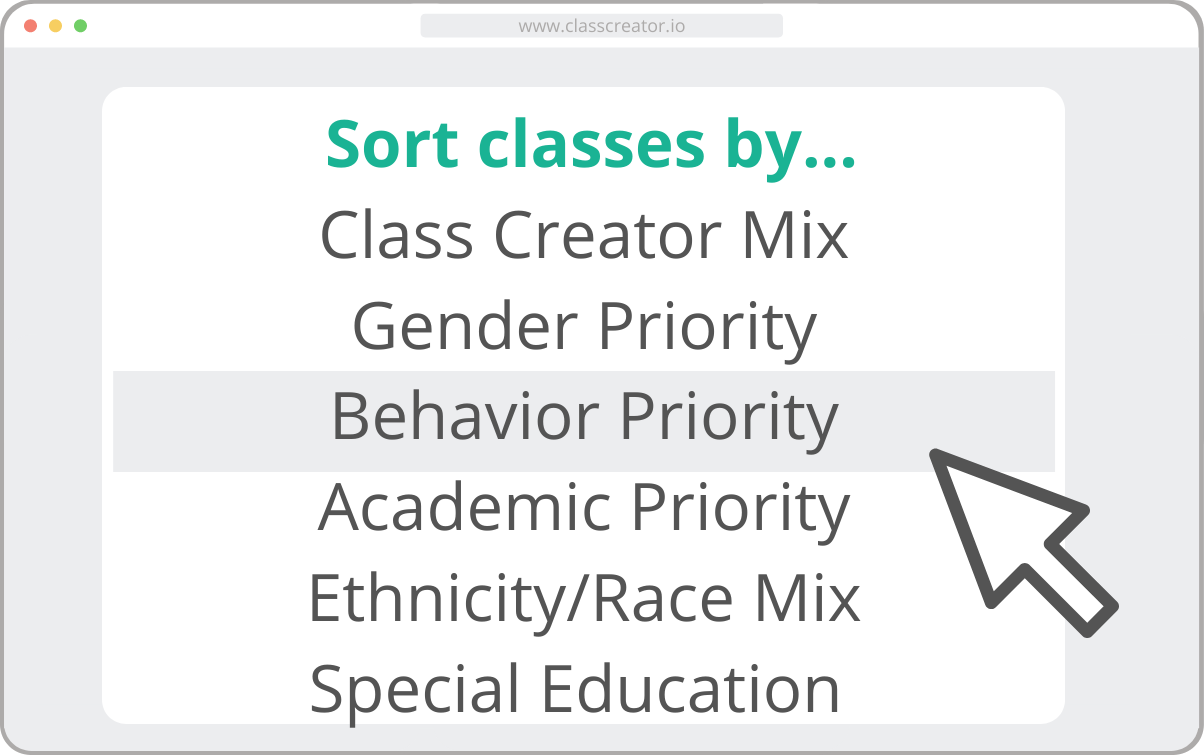 Multi-Age Classes
Split/Composite/Combination classes are easy to configure & create using Class Creator.

EG. Grade 3/4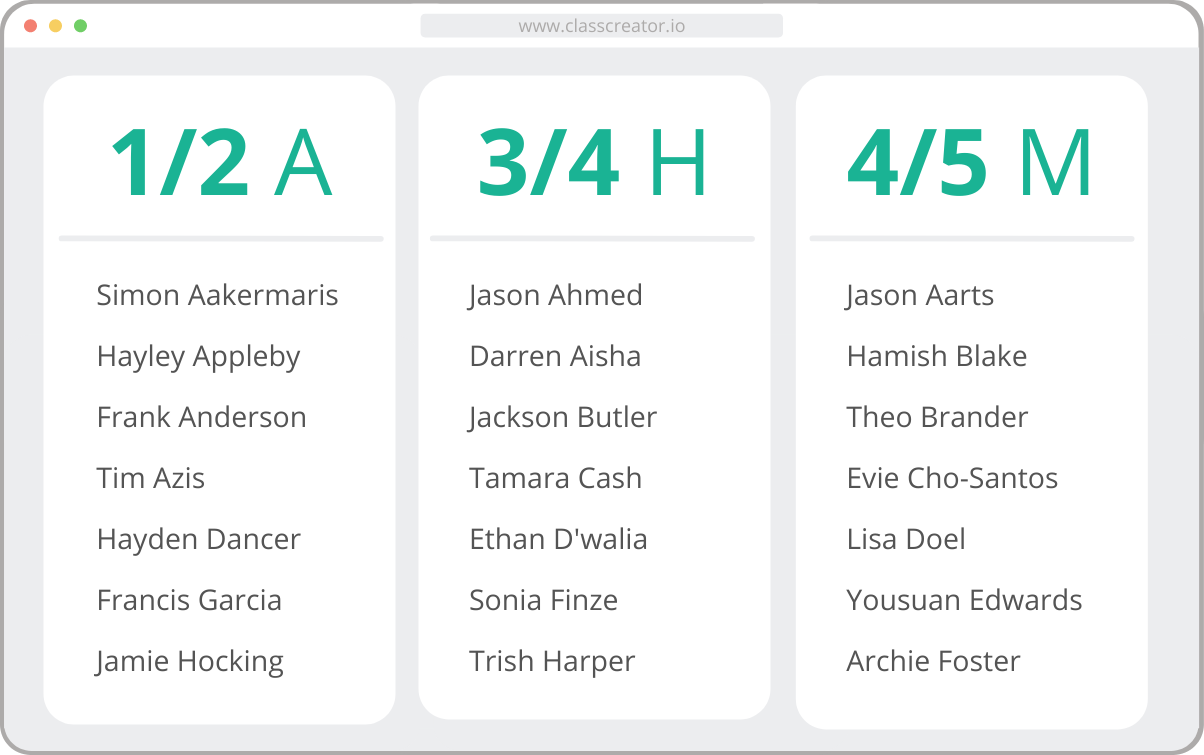 Multiple Versions
Create multiple versions and configurations of your classes to see what suits your school best.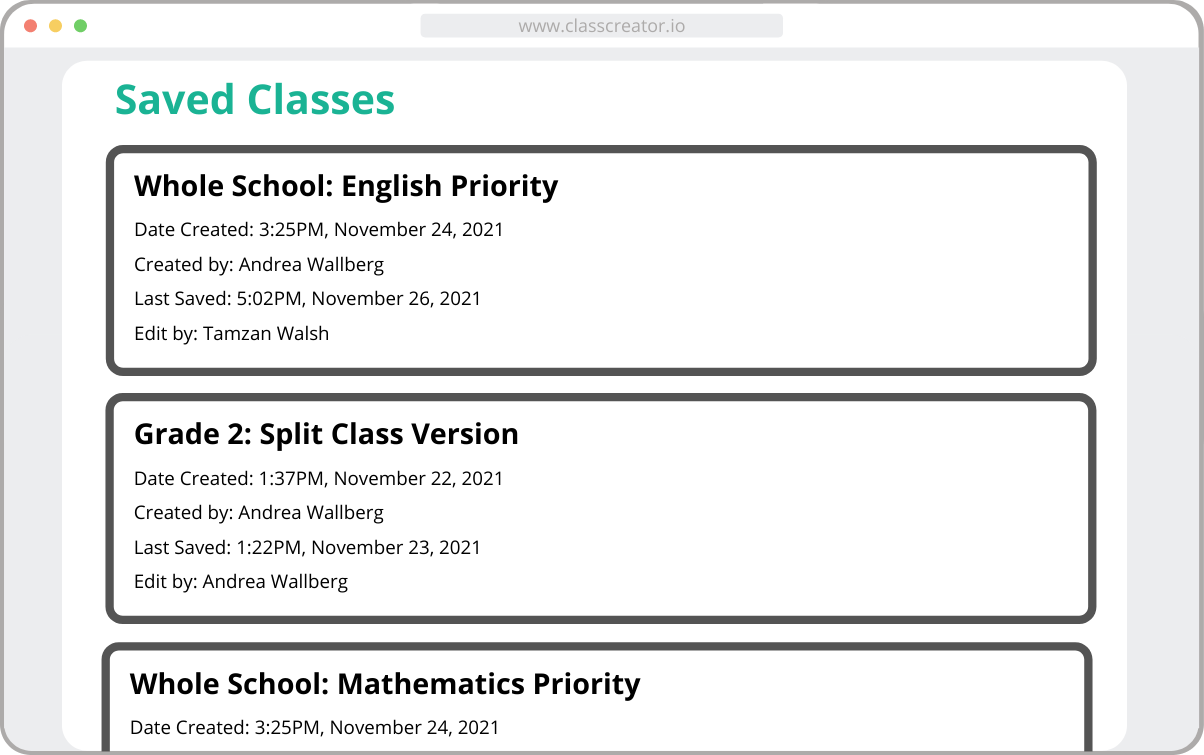 Outstanding Support
1) We REALLY care about our schools.
2) We've worked in schools for 20+ years, so we know they don't have time to be waiting for support.
3) We're nice.
4) Class Creator is really easy to use, but we're always here to help.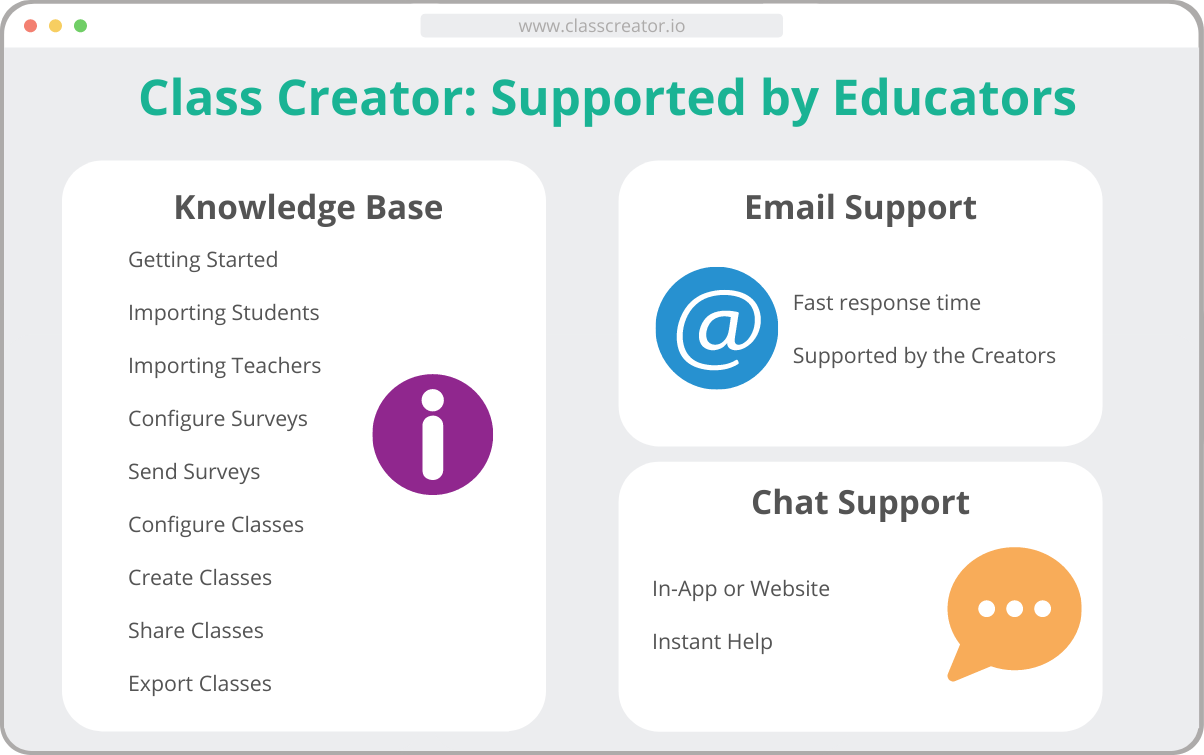 Student Friendships
You have the option to factor in student friendships (or teacher directed "Works-Well-With") when creating your classes.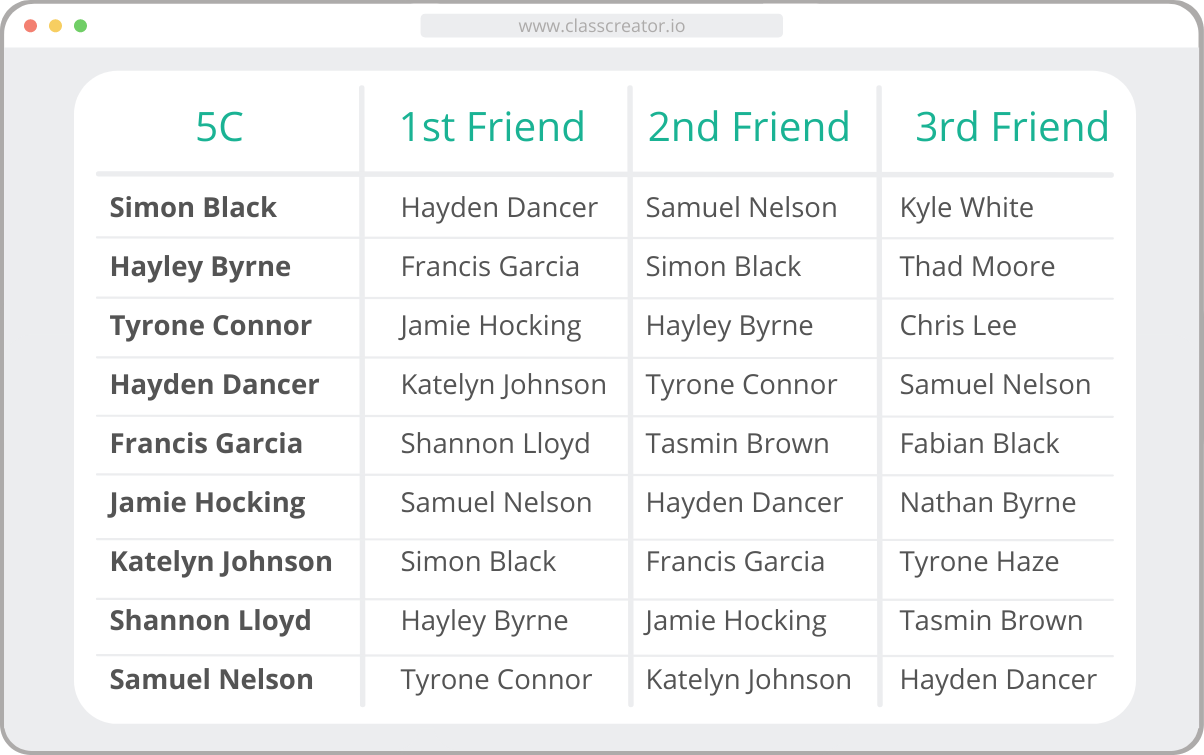 Group Move
Move students in small groups/clusters to ensure their social placement considerations are meet. Keep friends together and edit with ease.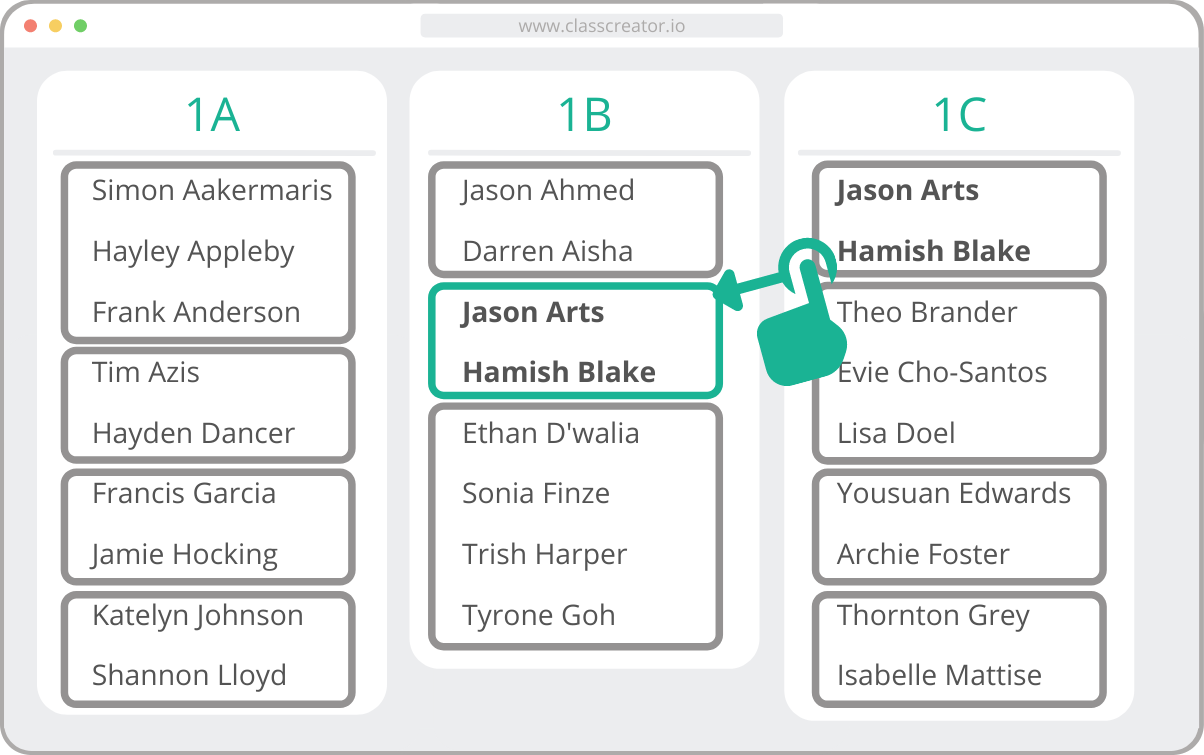 Placement Helper
With a single click see where a student's friendship presences, pairings and separations are so you can see which classes a student can be moved.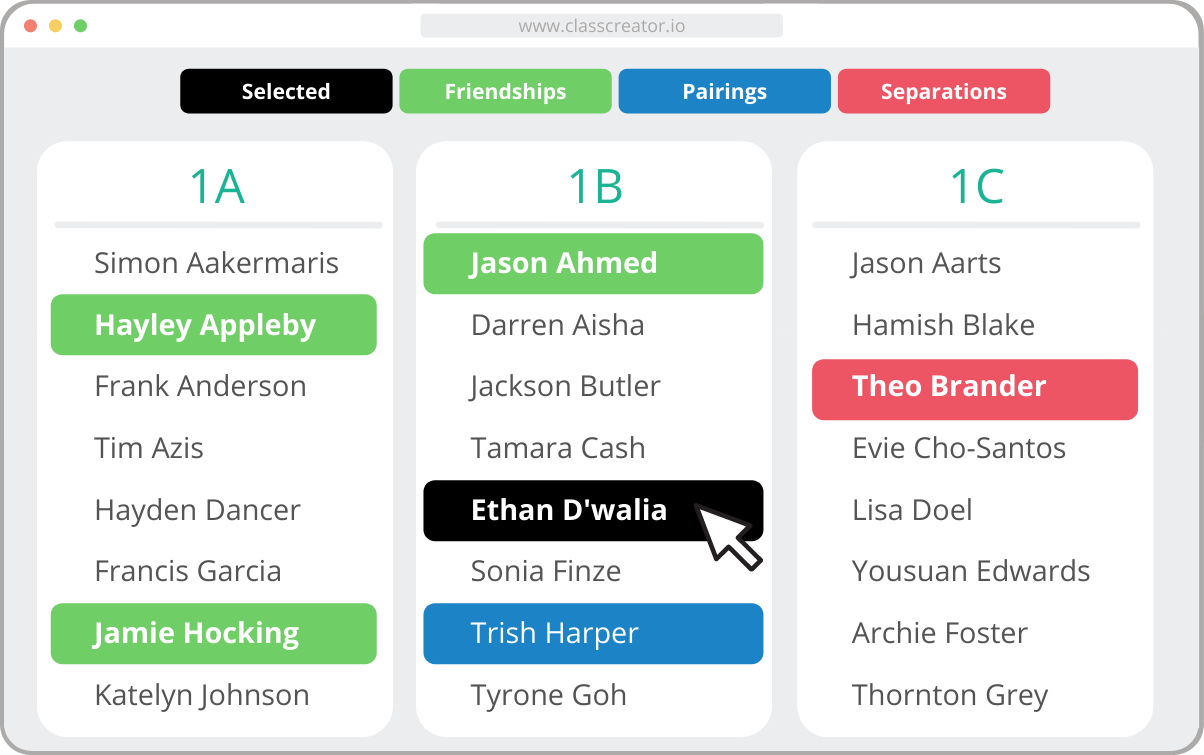 Sociograph
Easily identify at-risk students/socially isolated students and cliques. Preferences must be enabled for this powerful feature.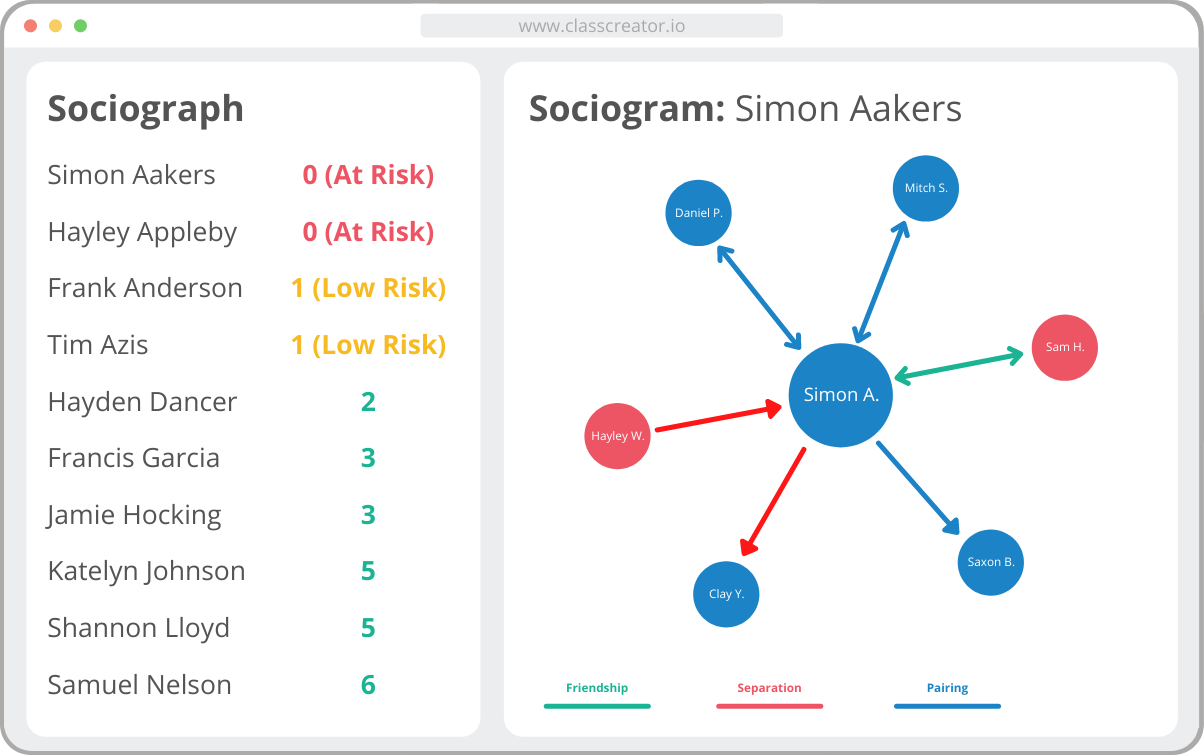 Re-Sorting Algorithm
Resort your classes with the click of a button. This allows you to easily find the best balance for your classes.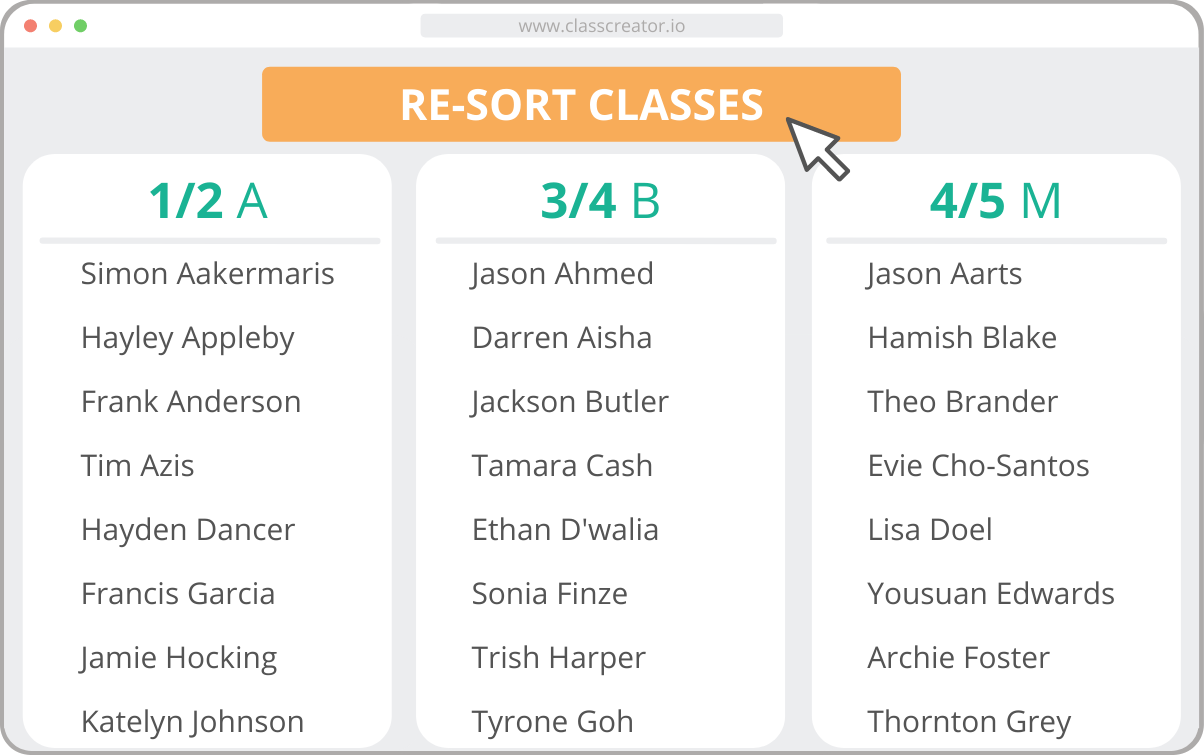 Group Creator
Create groups at any stage of the year for excursions, camps, sports and academics. Groups can be mixed or single gender.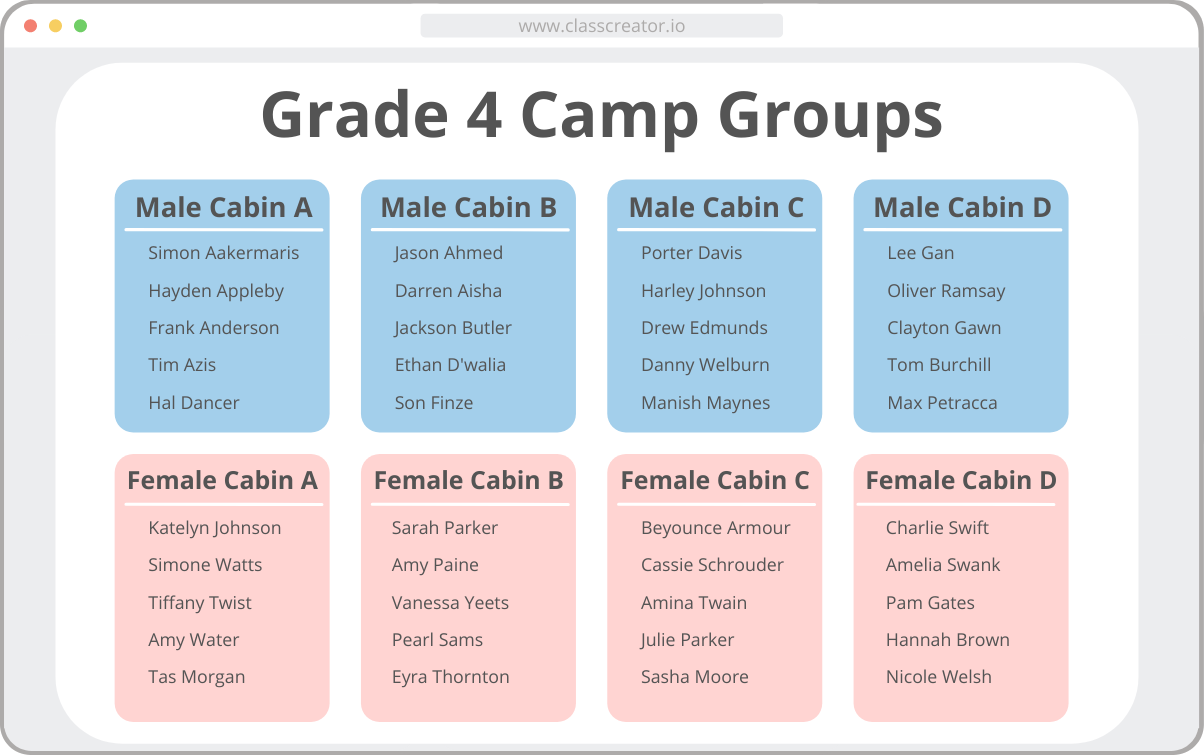 Student-Class Pairings
Ensure students are placed in specific classes.
EG. All students with a "G&T" must be placed in class 4C.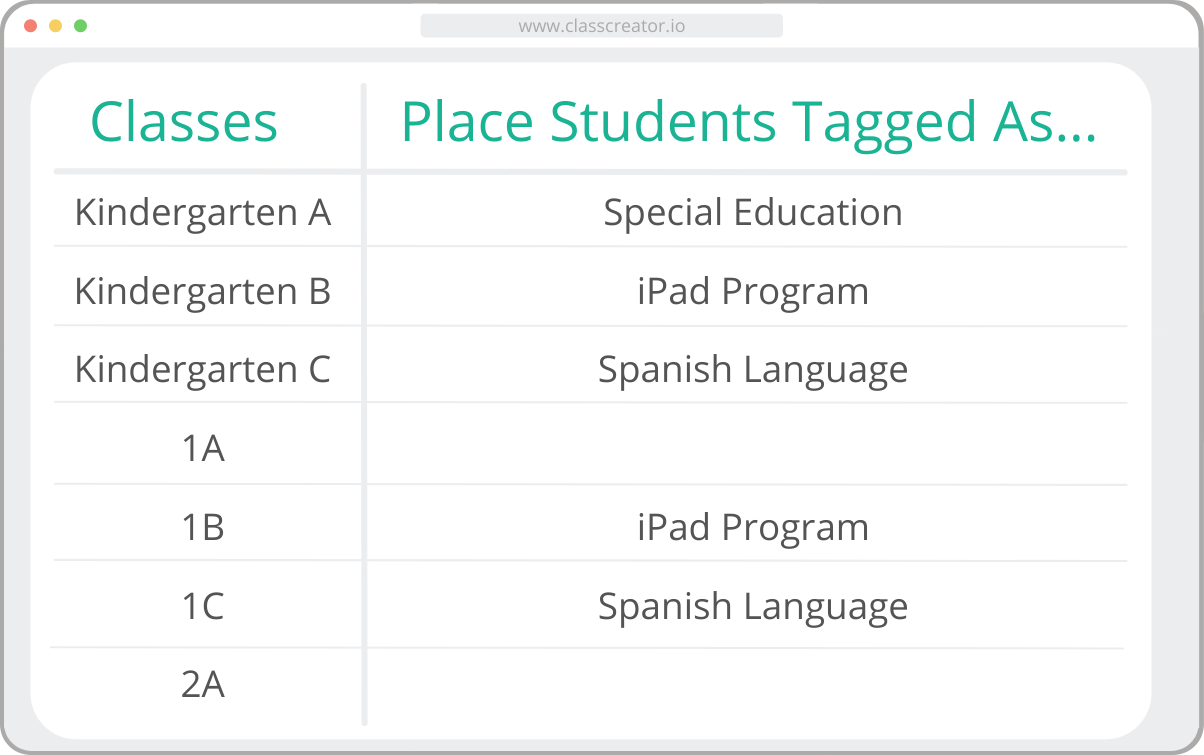 Can Class Creator do "XYZ"?
Quite possibly.
Class Creator has evolved a lot over the last seven years and we understand that every school is unique.
After helping thousands of educators we've developed solutions to solve a huge range of student placement situations.
If you have a question about something specific to your school please reach out to us. We will let you know if Class Creator can meet the needs of your school
PS: We will also let you know if Class Creator can't get you the outcome you need.
Can you make a feature for our school?
If you have a feature request please reach out to us because:
1) There are a lot more features in Class Creator than the ones listed on this page, so there is every chance the feature you're after already exists.
2) We add new features regularly. We decide what to build and add based on user feedback. The bigger impact the new feature will have on the most number of schools, the more likely we'll make it.
3) If we don't have a specific feature, we often have a workaround that will get you the outcome you are after.
Do I have to install anything to access new features?
Class Creator is web-based, so there is no need to install anything.
When we launch a new feature you will simply need to log out and back in to access it.
Does my subscription allow me access to ALL features?
Yes.
Class Creator is a single subscription that includes ALL FEATURES.
We used to have two versions, but it was way too complicated and we wanted schools to have access to all the tools we could provide.
Will Class Creator empty the staffroom dishwasher?
How good a feature would that be!!!!
Unfortunately, Class Creator can't empty a dishwasher yet, but it can save your school heaps of time so there will be plenty of time to empty dishwashers :-)