20,000,000+
Student Data Points


4,000,000+
Student Placements
Class Creator explained in 76 seconds...
Class Creator will help you-
Make better classes
Class Creator empowers educators with all the tools they need to make the best classes for their students, teachers, and school community.
All the data you need is organized and at your fingertips:
Behavior
Academics
Teacher/Student Separations & Pairings
Student History
Parent Requests
Special Education/EAL/MTSS
Race/Ethnicity
Friendships
And much more.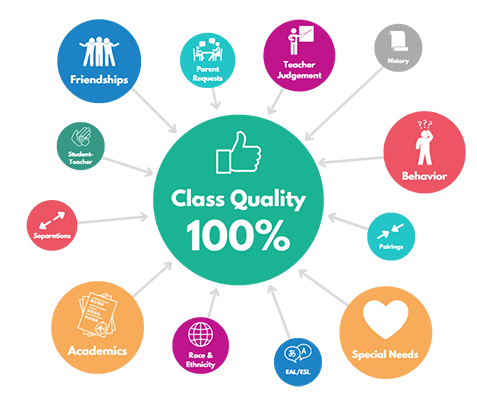 Streamline your existing process
Creating great classes is one of the most complex processes in a school. With so many data points, requirements, requests, and restrictions it can quickly turn into a nightmare, especially when using traditional methods such as placement cards, stick notes, and spreadsheets.
We don't mean to blow our own trumpet, but we have helped more schools create classes than anyone else on the planet.
Class Creator takes the hassle out of making classes, ensuring everything is organized and displayed clearly.
Be a hero for your teachers
As teachers ourselves, we come across many software companies say their software is easy to use….when really it isn't.

Class Creator really is easy to use!

We've designed Class Creator to be super user-friendly, so it doesn't require staff meetings for training. If you can use an Excel spreadsheet or fill in a Google Form you will find Class Creator a breeze.

We have videos on every page and a great support team to help you if you have any questions.
Save Time
Class Creator allows you to save hours, days, and even weeks of time.
Easily collect all your student data in an organized and moderated way.
Create classes with the click of a button, edit classes whilst receiving feedback in real-time, add/remove students at any stage and save all your student history in one place.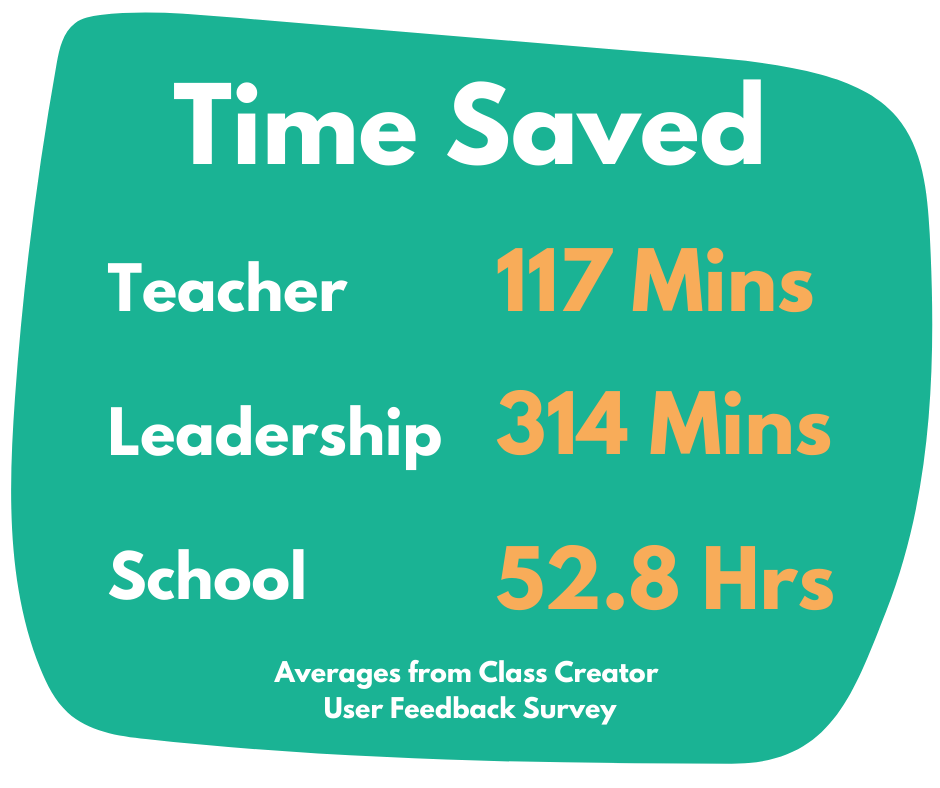 Classes Instantly

Online Surveys

Easy Editing

Alerts and Feedback

Handover Notes
Balanced Classes in a Click
Classes are created instantly balanced by:
Gender
Class size
Behavior
Academics
Special Needs
ESL/ELL
Social dynamics
Friendships
Student-Teacher Requirements
And More
Customize the surveys to suit your needs
Behavior, Reading, Writing, Mathematics, Separations, Pairings, EAL/ESL, 504, IEPS, Special Needs, Friendships, Ethnicity/Race, Notes...and anything else that matters to your school.
#EverySchoolIsDifferent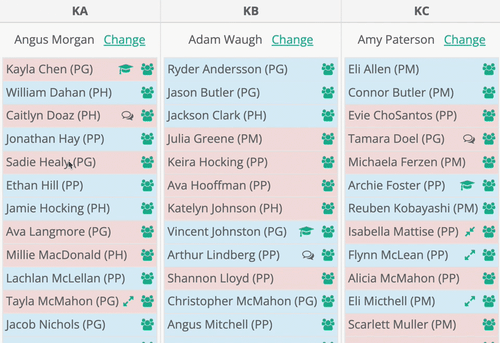 Drag & Drop
Class Creator's drag & drop editor allows you to move students between classes with ease.
You have full control.
We like to think that our placement algorithm does all the "heavy lift" of making classes, but educator knowledge and decision-making are the keys to creating the best classes possible.
Stress-Free Editing
Ensure your classes are exactly how you would like them by keeping an idea on the class demographics overview that updates in real-time. Student Separations, Pairings, and Friendships icons are color-coded so you know if any of your moves result in an unmet requirement. Say goodbye to imbalanced classes and unmet requirements.
Start the new year right
Handover notes provide new teachers with all the data they need to get off on the right foot with their new class. Data on academics, behaviour, friendships, separations, pairings, notes from previous teachers and administrators allow teachers to get to know their new students with ease.
Empowering Educators
"A computer can't make classes, it doesn't know our kids"
Class Creator doesn't replace educators, it provides them with all the tools they need to make great class lists. After all, creating great classes is as much an art, as it is a science.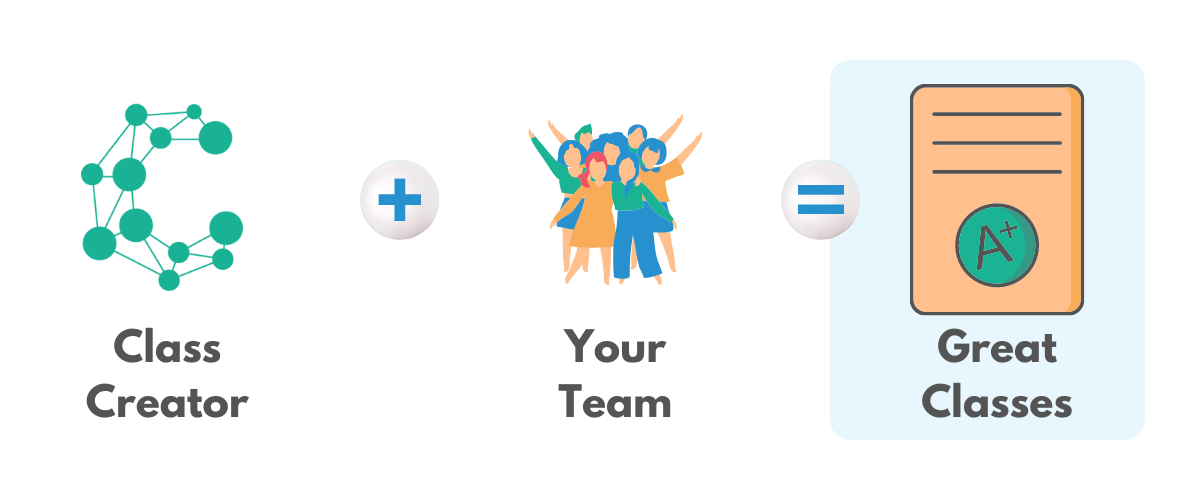 "I used Class Creator last school year for the first time and found it to be amazing! The software is extremely user-friendly and I was able to get support whenever I needed it - either through the videos or through email. I have told my friends about it and this year 5 more schools in my district are using it. It has been the ultimate time saver!"
"This is the best solution that we've experienced and can not say enough about the ease of use for both staff and administration. The countless hours is saved scheduling 475 students is immeasurable. Certainly worth the investment. We'll use it this summer as well to schedule our incoming Kindergarten students (100 +). Best class placement solution out there! Corinne has been outstanding in her support and response to answering any of our questions! Thanks a million."
"Class Creator has made my life so much easier as the elementary assistant Principal. I work with teachers to roll out the survey specifications, they completed the survey, and I click the create classes button! After the classes are made, I sit with the teams to make sure the classes are evenly distributed with academic and behavioral needs. I love it!"
"Class Creator meant all the information was in one place - no cross-checking between different lists and folders. Once the grades were created it was so easy to move students from one class to another and straight away see the implications of this move."
Do you have district pricing?
Yes.
The bigger the district, the bigger the discount we can provide.
Please contact us for District Pricing.
What Support Plan do I need?
Most schools are fine with the included support plan.
If you can copy & paste into an Excel spreadsheet, are happy to learn from our in-app videos and email support, then the included support should be enough for you.
The premium support plan is for schools that would love a live onboarding session, help setting up their surveys, and phone support.
Can we trial Class Creator for free?
We do not offer free trials/pilots.
The cost to set up a school is too great for this to be a viable option for us and our focus is on supporting the school we have rather than "making sales".
We do however offer a LOT of options for schools to see if Class Creator is the right fit for them:
Class Creator Demo School

Class Creator Video Demos

Class Handover Notes Example

Student History Example

Class Creator Brochure
We also have lots of testimonials (we have helped schools make over three million student placements) and offer a money-back guarantee.
Is Class Creator worth it?
Class Creator is an investment in a commonly undervalued resource in schools...time.
Short-term Savings
Easy data collection via online surveys. (≈ 1 hour per teacher)
Balanced classes created in a click. (≈ 1 hour per grade level)
Easy editing with real-time feedback. (≈ 2 hours per grade level)

No more data entry of student cards/spreadsheets (≈ 1 hour per grade level)
Simple to use, no teacher training required (≈ 30 minutes per teacher)
Medium-term Savings
No placement mistakes = A lot fewer disgruntled students/parents/teachers. (≈ 1 hour per mistake avoided)
Easy to update and edit when students arrive/depart your school (≈ 30 minutes per student)

Long-term Savings
Better classes = A better year for students, teachers, parents & leadership. (≈ weeks/months)
History is saved, easy to access and automatically alerts you of mistakes. (≈ 3+ hours per year)
Our Commitment
We understand school budgets are tight. We understand that the money you spend on a Class Creator subscription is money you can't spend on other things. That's why we truly respect your decision if you decide to use Class Creator and we work hard to ensure you receive great value.
How do we get our students into the system?
Class Creator uses an Excel Spreadsheet to import students.
It's really easy and means that Class Creator works with any SIS/SMS.
How do we get started?
Fill in your details on our sign-up page.
We'll create your account and email your login details within 12 hours (usually much sooner) and you can start making classes.
We send the invoice through after your login details because we know how time-sensitive the process can be in schools and we don't to hold up your progress will you arrange payment.
How can a "computer" replace our educator judgment?
It can't.
Class Creator's role is to empower educators, not to replace them.
Class Creator streamlines your existing process and provides you with all the tools you need to make the best classes possible.
Class list creation is both art and science:
Science
Class Creator helps gather and organize the data and make the initial version of the classes based on our "teacher logic" algorithm.
Art
Class Creator's entire process is built on the teacher judgement of students via surveys and all final placement decisions are made by the school/educators.
We have found this information is important for staff to know so that they realise Class Creator is "just" a tool to be used like Word, Excel or a Web Browser.
How difficult is it to get set up?
It's really easy.
Unlike most tech solutions in education, Class Creator was 100% designed by educators.
It's a very straightforward and linear process.
Most school can import their students & teacher, set up the surveys, and send them out to staff within an hour.
The teacher survey is super easy, it's a lot like Google Form or Survey Monkey.
Then admins configure the new classes, create classes and easily make edits.
The whole process could easily be done in a day, even a few hours if everything was ready to go.
Does it separate students that are twins/cousins or have the same name?
Relatives and students with the same name are not separated automatically.
Some schools/families want siblings separated, while others want them paired together. That's why Class Creator lets you make all decisions about separations/pairings.
Is it safe & secure?
Yes.
Class Creator stores data on Microsoft Azure. Microsoft has decades-long experience building enterprise software and running some of the largest online services in the world. It has leveraged this experience to implement and continuously improve security-aware software development, operational management, and threat mitigation practices that are essential to the strong protection of data in the cloud.
Security is built into Azure from the ground up, starting with the Secure Development Lifecycle, a mandatory development process that embeds security requirements into every phase of the development process. Azure infrastructure is resilient to attack by mandating that operational activities follow the rigorous security guidelines laid out in the Operational Security Assurance (OSA) process. For more information on the storage of data using Azure please visit their website here or contact us directly at Class Creator.
We use the best one-way encryption to store your password (technically known as PBKDF2), and use industry-leading cryptography to ensure data remains secure and confidential from our servers to you (using AES_128_GCM and uses ECDHE_ECDSA as the key exchange mechanism).
In the rare and unlikely event that there is unauthorized data accessed, we will work on containment and, if necessary, inform affected parties within 24 hours.

You can find more information in our Privacy Policy.
Is your money-back guarantee real?
Yes. We are so confident in Class Creator that if it doesn't help you make great classes and save you time we will give you a full refund. The only "rules" are:
- You let us know where we went wrong
- You will not be able to re-sign to use Class Creator the following year.
- You notify us before the completion of the academic year in which you signed up.
We are less about getting sales and more about ensuring we are the right fit for a school.
Can you match students & teachers?
Yes.
You can make the following separations & pairings:
Student-Student
Make sure specific students are with/not with a particular student.
Tim must be with Andrew
Jenny must not be with Catherine
Student-Teacher
Make sure specific students are with/not with a particular teacher.
Tim must be with Mrs Brown
Jenny must not be with Mrs Brown
Student-Class
Make sure specific students are in a particular class.
All students with the "GT" tag must be in the "Gifted & Talented Class"
Is student history saved?
Yes.
All student information is kept with the student via their Student ID.
This allows you to see historical data such as:
- Separations & Pairings
- Friendships
- Behavior
- Academics
- Teacher & Admin Notes
and more.
What do we need to install?
Nothing.
Class Creator is cloud-based, so it can be accessed on any internet-enabled device (eg. computer, tablet, phone).
This means you don't have to install anything or worry about security updates.
All new features and updates will be rolled out to you automatically.